Macon County Public Pools were under duress as they make money with local public resources, but a municipal pool crack shuts down municipal pools and the money for it's use stops coming in. Water was running out of the pool shell, and their in-house repair technician was at his wits end trying to make it stop. Partially because of budget concerns, but mostly because he wasn't familiar with Torque Lock Structural Staples.
"We do have a budget," Sally Rochelle explained, "but allocating those resources to a solution, and not to an ongoing series of temporary repairs is where we try to aim spending that budget."
Sally and the staff at the municipal center were perplexed by the list of quotes and repair concepts they received from area contractors standing around with their hands out. This included engineers who wanted to do soil testing, weekend warriors who wanted to sparkle the pool wall with bubble gum products and major overhaulers who wanted to rip the pool out and charge closer to a million dollars to build and entirely new pool and complex around it. Then they met with Paul Crane and Crane Construction.
"He proposed a realistic solution with these Torque Lock Staples, and at a cost that was well below our maximum spending budget to make repairs. We were delighted!," Sally told us.
Paul has been a Torque Lock Customer for years and uses them regularly for all sorts of pools and spa repairs. Where cracks happen, he installs Torque lock Staples and refinishes the pool wall to perfection, putting the pool back into service with no more water loss or structural cracking issues.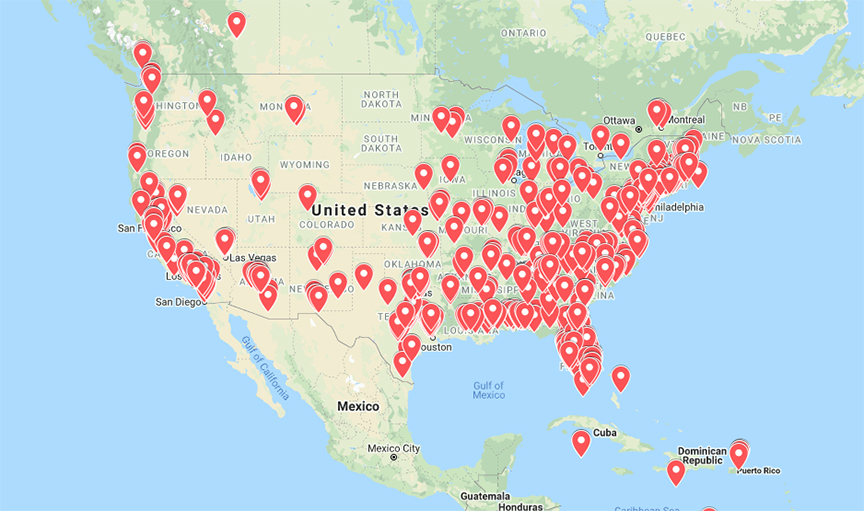 Paul is one of thousands of contractors around the world who use Torque Lock and those contractors can be found on our Find-A-Pro Map. When contractors use the trusted strength of Torque Lock's controlled compression, they are doing more than stopping water loss; they are ensuring that a crack is stabilized and won't shift, move or re-crack with time. The compression applied to concrete when the staples are installed keeps the concrete where it belongs and resists the potential for spreading to occur. A crack can be repaired using hydraulic cement and the pool can be finished to it's original look, making for permanent repairs and a lifetime of pool use with our concerns.
Sally stated, "We had $370,000 to make permanent repairs to the structure, it's a big pool. In the end, the pool was repaired in a week and it cost us about $140,000. This included repairs on more than 50 feet of liner cracks that appeared in separate areas of the pool floor and the pool walls. Our 40 year old pool is now appearing to be new and ready for another 40 years of use, and the country is delighted to have it back."
Torque Lock Staples are applicable to any concrete pool, regardless of size, as well as spas, fountains, sea walls, foundations and any other solid concrete structure. Learn more by viewing videos here, or by calling 818-436-2953 to get answers to how Torque Lock can save your structure from damaging cracks and water loss today.