THE TL10 – COMPLETE STAPLE KIT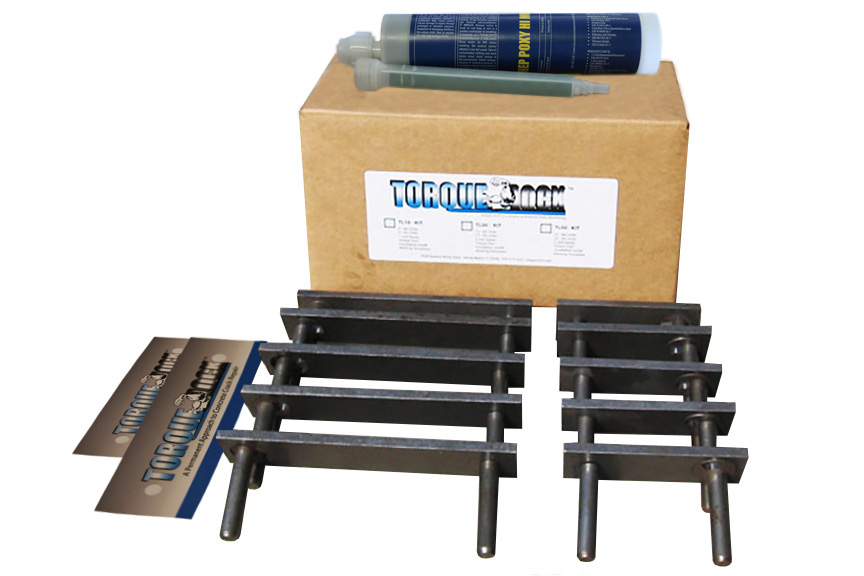 The TL10 Kit includes enough staples to repair a 10 foot crack. The it includes:
(5) – 6in Torque Lock Staples
(5) – 3in Torque Lock Staples
(10) – Posts with Cams
(1) – unit of epoxy
Installation guide
Marking Templates
Retail Price: $470.00
Contractor Price: $367.00*
* PLEASE NOTE: All Contractor Orders will be Verified and Confirmed.
Description
Click here to understand the Concrete Stitching Method, unique to the Patented Torque Lock Structural Staple. You'll easily understand why there is no other solution, anywhere, for structural cracking.
Torque Lock is simply, the most secure and revolutionary way to repair structural cracks.  Using Torque Lock Staples along with a quality epoxy (supplied with our kits), we can help you repair your concrete cracks with easy and give you the security in knowing, the cracking stops now! It's a permanent fix for swimming pools, easily repairs basement cracks, fracture lines in foundations, driveways, walls, seawalls, or virtually any other structural crack.
The controlled compression created by the Patented Torque Lock Staple and Stitching Method (yes, even the stitching method was granted a patent), will reduce, and most often, remove the potential of further cracking. This secures your structure and keeps cracks from spreading or leaking ever again.
Torque Lock™ Structural Staples are applicable to:
Gunite
Shotcrete
Concrete
Poured Block
Torque Lock™ is used worldwide to repair cracking in:
Swimming Pools
Spas
Basements
Concrete Structures
Fountains
Foundations
Sea Walls
Garage Floors
or virtually any other concrete structural crack.