THE TL-50 – COMPLETE STAPLE KIT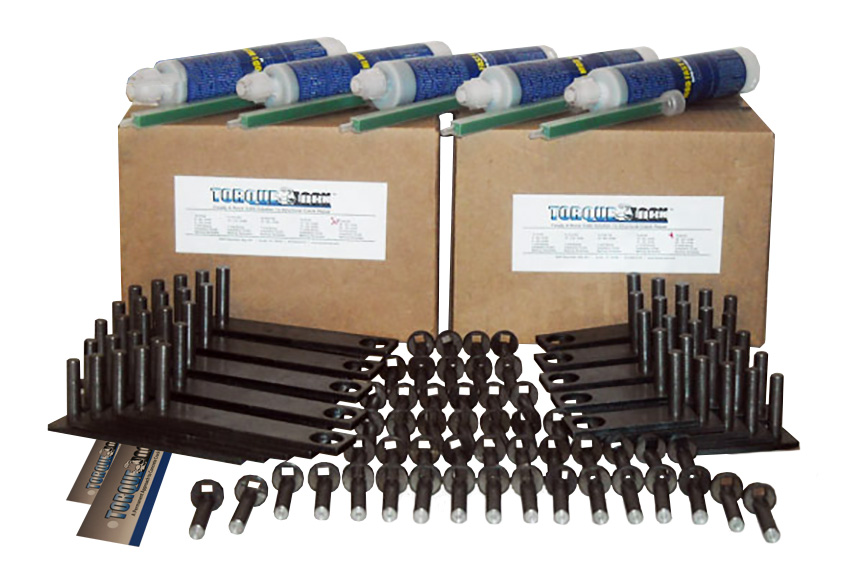 The TL50 Kit includes enough staples to repair a 50-foot crack. The complete kit includes:
(25) – 6in Torque Lock Staples
(25) – 3in Torque Lock Staples
(50) – Posts with Cams
(5) – Units of Epoxy
An Installation Guide
Marking Templates
Retail Price: $2,734.60
Contractor Price: $2,099.35*
* PLEASE NOTE: All Contractor Orders will be Verified and Confirmed.
Description
Click here to understand the Concrete Stitching Method, unique to the Patented Torque Lock Structural Staple and this Torque Lock TL-50 kit. You'll easily understand why there is no other solution, anywhere, for structural cracking. With the Torque Lock Stitching Method and controlled compression, cracks are permanently repaired. Delivering up to 5000 lbs of controlled compression makes cracking resistant to shearing, separation or further movement that allows re-cracking, spreading or leaking as time goes on. Once the surface has been reapplied, the crack is no longer an issue and the concrete is secure for regular use.
Torque Lock is simply the most secure and revolutionary way to repair structural cracks. Using Torque Lock Staples along with a quality epoxy (supplied with our kits), you will repair your concrete cracks with ease and enjoy the security of knowing that the cracking stops now! It's a permanent repair for swimming pools, fountains, and spas.
The controlled compression created by the Patented Torque Lock Staple and Stitching Method (yes, even the stitching method was granted a patent), removes the potential of further cracking. This secures your structure and keeps cracks from spreading or leaking ever again.
Torque Lock™ Structural Staples are applicable to:
Gunite
Shotcrete
Concrete
Poured Block
Torque Lock™ is used worldwide to repair cracking in:
Swimming Pools
Spas
Fountains