Structural cracks are a big concern for pool owners, and they aren't at all uncommon. At Torque-Lock.com, we provide the only patented structural staple of its kind to end structural cracking forever. With its unique method of controlled compression, securing cracks from widening, separating and shearing is a virtual guarantee. Most all structural cracking can be properly repaired with Torque Lock Structural Staples.
When installing the staples, the surface area of the pool will be cut back a small amount to allow for the staples to be set into the shell. Once torqued, the staples are covered with a spec-mix, or a hydraulic cement, and we recommend using a waterproofing like Membrane-C for an added barrier of protection in the area of repair. Then, a plaster patch is applied to match the surface layer and to provide the same smooth surface on the pool shell that was there before the cracking began.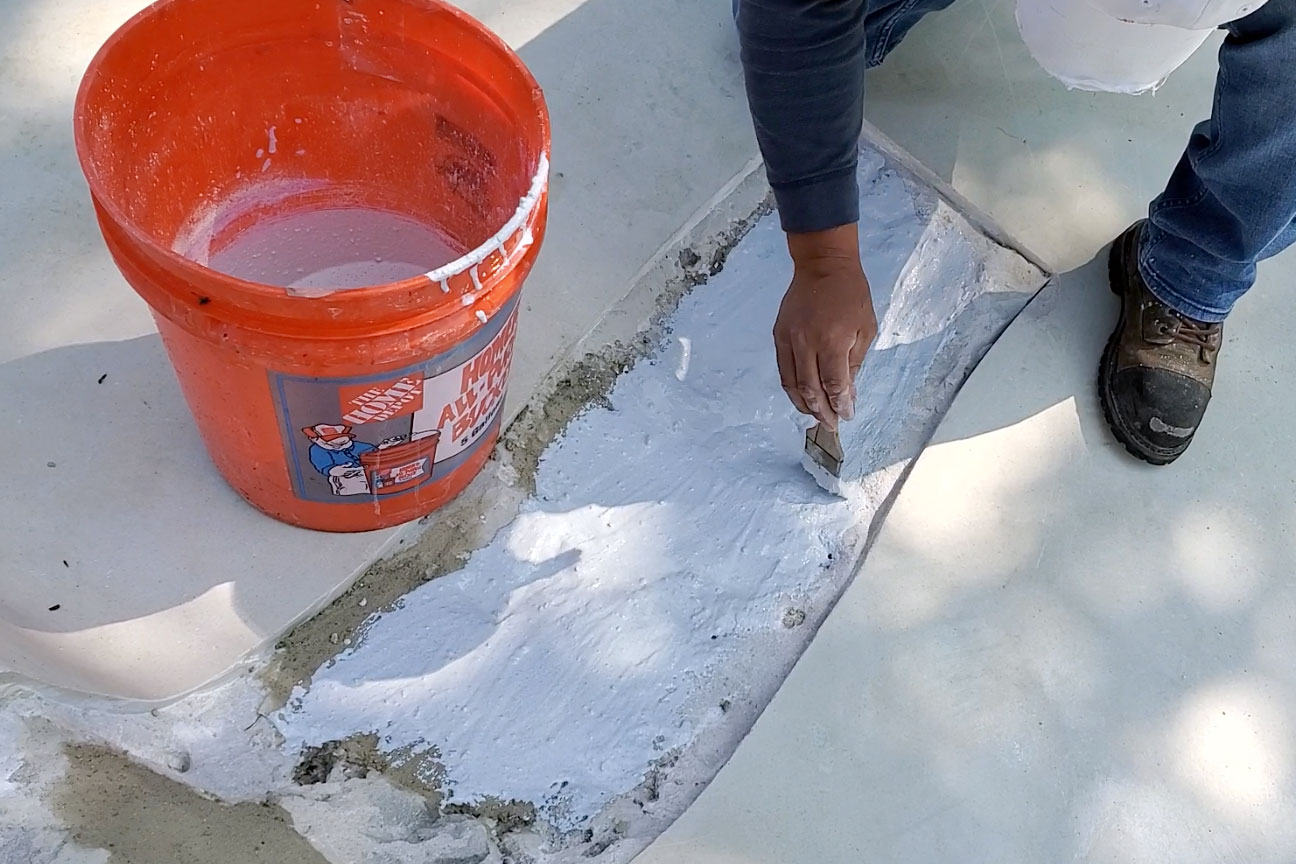 Waterproofing with Membrane-C
While most every job, when performed properly, results in a leak free shell and a secure pool, there is always a chance of failure in the structure of the pool where repairs were made. If there is a failure, 75% of the time it happens in the first few months of repair, and it's virtually guaranteed that if there is a failure, which is rare, it will happen within the first year of repair. As installers ourselves, we offer a 1-year right to repair warranty. If it fails, we have the right to fix the original area of repair, which of course, means a little bit more construction work. For this reason, we recommend the pool owner to live with the plaster patch for one year.
It is hard to get an exact match of pool surface color when applying a patch, especially if it's PebbleTec or a covered surface. We have video content on YouTube showing some applications we regularly perform and you would be amazed at how well we can match colors – but it does come with a variance clause. There will be a cosmetic variation in the area of repair when seen alongside the original area where repairs weren't made. While it may come as close as 95%, it can't be the exact original.
Often a pool owner will want to finish over the repaired area and the entire pool to make a perfect match throughout with a new surface coat. We recommend, for the reasons above of any potential for a need to repair failures, that the pool owner wait on refinishing the surface for a period of one year. If a leak hasn't reoccurred in the repair area in one year's time, it's likely it won't and the pool owner is safe to refinish the pool.
Torque Lock Staples can repair cracks on flat surfaces, radiuses and corners and contractors can purchase staple kits to be shipped direct to their door. Orders placed before noon daily typically ship same day and can be delivered globally.
To find a professional Torque Lock installer in your area, visit https://torque-lock.com/find-a-pro/ and see the map in your specific area. Torque Lock's website and YouTube page offer free video resources to see and understand how Torque Lock Staples are installed and how cracks are properly repaired.